Dependable Pressure Washing Company In Mooresville, NC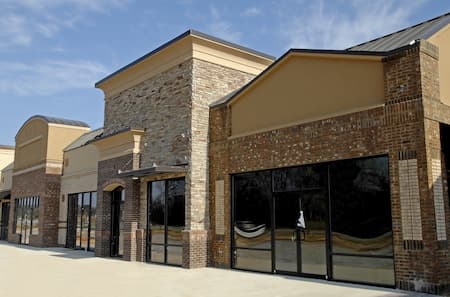 When you need dependable pressure washing services in Mooresville, you don't have to look any farther than Green Side Pro Wash, LLC! We are the local, professional pressure washing company you can count on for first-class customer service and outstanding results!
At Green Side Pro Wash, LLC, we've got a reputation as the leading pressure washing company to uphold. We love this town, and we live here, so there's nothing we won't do to ensure our customers are delighted with the way their property looks. We believe that our community as a whole benefits when our homes and businesses look spectacular, and besides a true passion for pressure washing, we genuinely just love helping our neighbors.
If you want service you can rely on, trust our professionals to make your exterior surfaces more gorgeous than ever! Green Side Pro Wash, LLC is the only pressure washing company in Mooresville that will ensure you get the excellent results you deserve!
Top-Rated Roof Cleaning For Mooresville
As durable as your Mooresville roof is, it's the victim of daily abuse from mother nature. Sooner or later, every homeowner starts to see signs of wear and tear on their shingles, but that doesn't mean your roof is on its way out. Our professional roof cleaning service is the remedy your roof needs to maintain its integrity and look more beautiful than ever.
With our soft washing system of pressure washing, we can safely remove harmful and unsightly materials off of your shingles and prevent them from spreading. When you depend on our roof cleaning pros, you can expect benefits that include:
Sparkling clean shingles that will enhance the curb appeal of your entire home

The prevention of future damages to your roof caused by corrosive and moisture trapping materials

The elimination of algae, mildew, moss, and mold, which can spread to other areas of your home

A gorgeous roof that is more energy-efficient and will help you keep your monthly utility bills down
Mooresville's Number One Company For Pressure Washing Services
If you're ready to give your Mooresville home or commercial property a visual overhaul, then Green Side Pro Wash, LLC is here to deliver! We offer a wide range of professional pressure washing and soft washing services that will restore the beauty of all your exterior surfaces. No spot, streak, or stain, is too stubborn for our seasoned experts! Give us a call for a free estimate on such professional treatments as:
House Washing

Driveway Washing

Window Cleaning

Gutter Cleaning & Brightening

Deck Washing

Fence Washing

Commercial Pressure Washing

Commercial Soft Washing

And Much More!
Experience the Benefits of Soft Washing in Mooresville with Green Side Pro Wash, LLC
At Green Side Pro Wash, LLC, we understand the importance of soft washing in Mooresville. Soft washing is a low-pressure washing technique that uses cleaning detergents, rather than high-pressure water, to clean and sanitize surfaces. This method is highly effective at removing dirt and debris, as well as killing bacteria and other harmful organisms. Soft washing is also gentler on surfaces than pressure washers and can help extend the life of your property's exterior.
Soft washing is perfect for cleaning and restoring surfaces such as siding, stucco, roofs, decks, and more. Soft washing can also reduce the risk of damage to your property, making it a great choice for home and business owners alike. To get started on your soft washing project, contact Green Side Pro Wash, LLC today. Our team will be happy to answer any questions you may have and provide a free estimate. Let us show you the power of soft washing!
Gutter Cleaning Services in Mooresville
At Green Side Pro Wash, LLC, we understand the importance of keeping your gutters clean. In Mooresville, it's essential to keep your gutters clean and free of debris in order to protect your home from water damage. Our experienced team is dedicated to providing the highest quality gutter cleaning services to ensure that your home stays safe and secure.
Gutter cleaning services provide a number of benefits. They help to keep your home looking great, reduce the chances of water damage, and prevent pests and other critters from making a home in your gutters. Additionally, by removing debris and keeping your gutters clear, you can help to preserve the life of your roof and prevent costly repairs in the future.
For the best gutter cleaning and pressure washing services in Mooresville, contact Green Side Pro Wash, LLC today! We offer comprehensive services to help keep your home looking its best. Our team is available to answer any of your questions and provide you with a quote for our services. Don't wait, call 704-775-5675 now to get started!
Get Professional Commercial Pressure Washing in Mooresville
At Green Side Pro Wash, LLC, we understand the importance of commercial pressure washing. Mooresville businesses rely on professional pressure washing to keep their buildings, sidewalks, and parking lots clean, presentable, and safe. Pressure washing can remove dirt and debris, as well as help prevent damage from mold or mildew.
The benefits of commercial pressure washing include:
Improved aesthetics

Reduced damage from debris or mold

A safer environment for customers and employees
For expert commercial pressure washing in Mooresville, contact Green Side Pro Wash, LLC at 704-775-5675. We'll make sure your business looks its best!
Experience Quality Deck Cleaning in Mooresville with Green Side Pro Wash, LLC
At Green Side Pro Wash, LLC, we understand the importance of having a clean deck. We offer pressure washing services to help you keep your deck looking its best. Our team of experienced professionals will ensure that your deck is cleaned to the highest standards, so you can enjoy it for many years to come. In Mooresville, Green Side Pro Wash, LLC is the best choice for quality deck cleaning services. Contact us today for more information!
If you want to make sure your deck looks its best, Green Side Pro Wash, LLC is here to help. Our team of experienced professionals offers comprehensive pressure washing services that will leave your deck looking like new. We use the latest technology and techniques to ensure that your deck is cleaned to the highest standards. Contact us today to learn more about our deck cleaning services!
Mooresville's Best Driveway Washing Professionals
At Green Side Pro Wash, LLC, we strive to provide the best possible driveway washing services in Mooresville. We have the latest equipment and technology to ensure that we get the job done right the first time. Our experienced pressure washers will work quickly and efficiently to get your driveway looking its best. We also provide a satisfaction guarantee, so you can rest assured that you're getting the highest-quality service. Call us today at Missing required attribute: Missing required 'which' attribute on shortcode phone-number. to get your property looking its best!
Green Side Pro Wash, LLC is proud to offer the residents of Mooresville with high-quality driveway washing services. We understand that the exterior of your property is the first thing that people see, and we strive to make sure that it looks its best. Our experienced team of pressure washing professionals are here to help you keep your driveway looking like new.
Give Your Mooresville Solar Set Up A Boost With Solar Panel Cleaning
If you're looking for top-notch solar panel washing services in Mooresville, Green Side Pro Wash, LLC is the perfect choice. Keeping your solar panels clean is essential for improving their performance and getting the most out of your solar panel system. Pressure washing is an effective way to remove dirt and debris that can block sunlight from reaching the panels and reduce their efficiency. Solar panel cleaning, or PV panel washing, is key for ensuring your system runs at its best and produces the most energy possible. With Green Side Pro Wash, LLC's experienced team, you can be sure that your solar panel system will be in top shape and ready to deliver maximum results. Contact us today at 704-775-5675 and let us help you get the most out of your solar panel system.
Watch Your Windows Sparkle with Window Cleaning in Mooresville
The Secret to a Long-Lasting Mooresville Fence: Professional Fence Washing
At Green Side Pro Wash, LLC, we understand the importance of maintaining your fences, and our professional fence washing services will help keep your fence in the best condition possible. With our pressure washing services, you can be sure that your fence will be sparkling clean and look great. Our experienced team of fence washing professionals has the skills and experience needed to get your fence looking as good as new.
We use state-of-the-art pressure washing equipment to ensure that your fence is cleaned thoroughly, leaving it looking its best. Our team is highly skilled and experienced in fence washing, and we are committed to providing our customers in Mooresville with the highest quality service. We understand that each customer has different needs, and we are dedicated to meeting those needs and exceeding expectations.
Invest To Protect And Clean Your Mooresville Home Today
While it may not seem like it, house washing is an amazing way to protect your home in addition to cleaning it. How is this so? The pollutants that find their way onto the exterior surface of your home can find their way into your home, causing harm to your health. 
In addition to your health, these pollutants can cause harm to the structural integrity of your home. House washing can help eliminate that threat. This service acts as a protective bath for your home, and an annual service can help keep all that nasty stuff at bay for the year.
Depending on the state of your home and the surrounding environment, your home may benefit from multiple house washing services a year. But all of this can be discussed and determined by a conversation with our house washing specialists.
Latest Projects
There are currently no reviews or testimonials; check back soon!
LATEST NEWS & ARTICLES
The Significance of Prompt and Professional Graffiti Removal

Graffiti can be found in various public spaces, from buildings and fences to sidewalks and bridges. While some graffiti may be considered art, unauthorized and unsightly graffiti can have a negative impact on the appearance and perception of a property and its surrounding community. In this […]

What is the Best Month to Pressure Wash a House?

Pressure washing and soft washing a house is best done after any major seasonal change. There is no "ideal" month to soft wash your house, but there are definitely months that it is recommended! That being said, what is the best month to pressure wash a […]
.
CALL TODAY FOR QUALITY SOFT WASHING & PRESSURE WASHING IN MOORESVILLE AND THE SURROUNDING AREAS!