Commercial Pressure Washing To Create Inviting Mooresville Business Spaces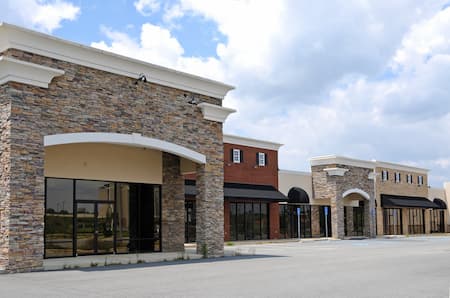 There's no better way to keep your Mooresville business in top condition than with commercial pressure washing by Green Side Pro Wash, LLC! We're the pressure washing company you can always trust for five-star pressure washing services!
Keeping the appearance of your business clean and professional is proven to go a long way towards success. After all, a thriving business needs to look the part, and to achieve the image your commercial property deserves, Green Side Pro Wash, LLC is the company to trust! Our professional pressure washing in Mooresville is unmatched when it comes to delivering our clients the most outstanding results. Our reputation is built on high-quality cleaning treatments and unparalleled customer service, so you can rest assured that your property is going to be treated with the utmost respect.
When you're ready to give your business a makeover, go with the company you can count on. Green Side Pro Wash, LLC has the commercial pressure washing your business needs in Mooresville to stand out above the rest!
Exterior Surface Cleaning For Businesses
When grime, algae, stains, and other eyesores take hold of your business's exterior surface, they can make a big difference in public perception. A filthy parking lot can be full of slipping hazards, and dirty building facades can shake your customers' confidence. Commercial pressure washing by Green Side Pro Wash, LLC will allow you to avoid these hangups and always greet your clientele with a warm welcome. Some of the many surface areas are commercial pressure washing team can clean for you include:
Buildings: You can rely on our specialists to remove all types of blemishes from your buildings. We clean away dark algae streaks, stains, bird droppings, and more.

Walkways: Walkways see heavy daily traffic, and they quickly get filthy unless tended to. Let our pressure washing pros clean away any unsightly substances from your walkways, and they'll shine like new.

Parking Lots: We're ready to bring your parking area back to its pristine condition. Our commercial pressure washing will clean away slipping hazards, spills, stains, and any other grime.

Patios: If you have any patios, Green Side Pro Wash, LLC will give them a makeover. Our patio washing specialists will rejuvenate and sanitize these cherished outdoor areas for a refreshing sparkle.
And much more! Green Side Pro Wash, LLC is your one-stop source for all of your commercial pressure washing needs in the Mooresville area. We also provide commercial soft washing services to carefully clean your more delicate surfaces such as windows and storefronts.
With Green Side Pro Wash, LLC here to help your business, there's no need to put your investment in amateur hands. Call our expert pressure washing company today for professional services you can trust at 704-775-5675.
LATEST NEWS & ARTICLES
The Significance of Prompt and Professional Graffiti Removal

Graffiti can be found in various public spaces, from buildings and fences to sidewalks and bridges. While some graffiti may be considered art, unauthorized and unsightly graffiti can have a negative impact on the appearance and perception of a property and its surrounding community. In this […]

What is the Best Month to Pressure Wash a House?

Pressure washing and soft washing a house is best done after any major seasonal change. There is no "ideal" month to soft wash your house, but there are definitely months that it is recommended! That being said, what is the best month to pressure wash a […]
.
CALL TODAY FOR QUALITY SOFT WASHING & PRESSURE WASHING IN MOORESVILLE AND THE SURROUNDING AREAS!