Commercial Soft Washing Specialists, Here To Help Mooresville Business Owners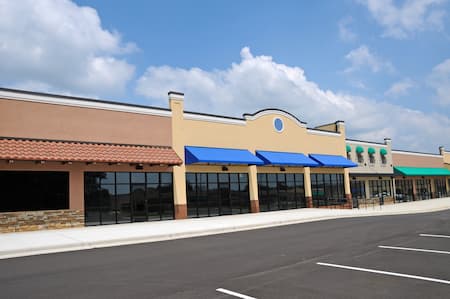 Do you need a professional team to give your business's exterior surface a safe clean that will leave them spotless? If you own commercial property in Mooresville, then look no further than the commercial soft washing experts at Green Side Pro Wash, LLC!
Green Side Pro Wash, LLC is more than just a Mooresville pressure washing company; we're also proud members of this community. We believe that if your business looks good, we all benefit because of it. As a fellow commercial enterprise, we understand how important appearances are in the business world. We also know that many surface materials require a more specialized cleaning treatment to achieve the best results. Our technicians' commercial soft washing is the perfect way to give your business the boost in public confidence you need to thrive. When you need commercial soft washing in Mooresville, don't search any further than the tried and trusted pros at Green Side Pro Wash, LLC!
What Your Business Needs: Soft Washing
Soft washing is a form of low-pressure washing that gently expels a highly concentrated mixture of heated water and cleaning solutions. Soft washing soaks a surface rather than spraying it, and the cleansing foam that is showered over the desired area breaks loose any contaminants so they can be safely rinsed away. Many surface materials need to be cleaned by soft washing because, unlike standard pressure washing, there's no risk of destroying protective sealant, peeling away paint, or chipping with soft washing.
Our Commercial Pressure Washing Services
There are many areas on your property that can benefit from commercial soft washing. Consider calling Green Side Pro Wash, LLC for soft washing areas such as:
Windows: Our window cleaning treatment achieves a spectacular clean for your glass and encasement. Commercial soft washing makes your windows more translucent than ever and keeps them clean for longer.

Wood Structures: If you have any wooden structures like a fence or deck, commercial soft washing is necessary to get them cleaned safely. Green Side Pro Wash, LLC will remove any eyesores and contaminants off your wooden structures so they'll look brand new again.

Storefront: Storefronts are one of the most frequently seen and interacted with areas of your business. Let our pros give your storefront a revitalizing wash so you can always give your customers a warm welcome.

Gutters: Your gutters protect your business by keeping rainwater safely away from such crucial areas as your foundation. Our commercial soft washing team will take care of the dirty and dangerous work of cleaning your gutters, and we'll brighten them, so they look better than ever.
Give your business a professional appearance that will be sure to intrigue the public. Call Green Side Pro Wash, LLC for your commercial soft washing needs today at 704-775-5675.
Commercial Soft Washing Projects
LATEST NEWS & ARTICLES
The Significance of Prompt and Professional Graffiti Removal

Graffiti can be found in various public spaces, from buildings and fences to sidewalks and bridges. While some graffiti may be considered art, unauthorized and unsightly graffiti can have a negative impact on the appearance and perception of a property and its surrounding community. In this […]

What is the Best Month to Pressure Wash a House?

Pressure washing and soft washing a house is best done after any major seasonal change. There is no "ideal" month to soft wash your house, but there are definitely months that it is recommended! That being said, what is the best month to pressure wash a […]
.
CALL TODAY FOR QUALITY SOFT WASHING & PRESSURE WASHING IN MOORESVILLE AND THE SURROUNDING AREAS!