Superior Pressure Washing Specialists Serving Troutman, NC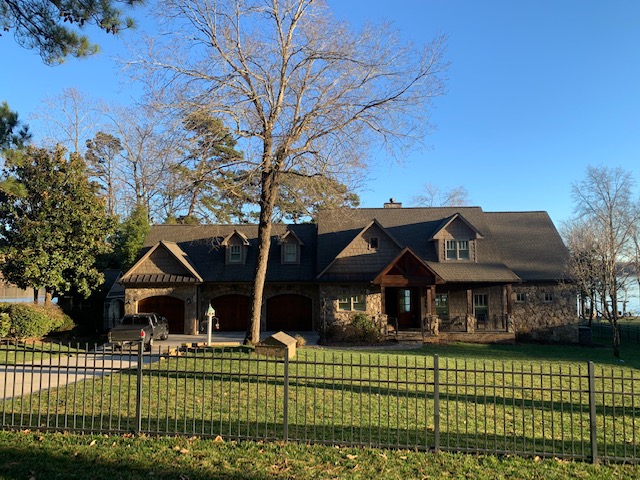 Make your Troutman surfaces stand out with exterior cleaning treatments that will rejuvenate and protect your property! Green Side Pro Wash, LLC has the pressure washing services you need to make your exterior surfaces look better than ever!
Green Side Pro Wash, LLC is the pressure washing company people trust when they want high-quality results without a bank-breaking price tag. We're passionate about pressure washing and helping our community look its best, and there's no stain, streak, or substance that's too stubborn for our pros! When you trust your Troutman property with our pressure washing experts, you can expect benefits such as:
A spectacular sparkle for your surfaces that will enhance your home or business's overall beauty and curb appeal.

The careful and safe elimination of corrosive and moisture-trapping substances so your surfaces can meet or exceed their expected lifespan.

We'll disinfect your surfaces so you and your loved ones can be safe from illness-causing germs, allergens, and viruses.

We wash away hazardous substances that cause slip and fall hazards, so you or your guests avoid injuries.

Our pressure washing enhances the energy efficiency of many surfaces such as shingles and windows.

If you have any recently installed structures, our pressure washing services will help ensure their warranty stays valid.

Your property will be treated with the same care, attention to detail, and respect as if it were our own.
You've worked hard to enjoy your Troutman property, so let us protect it and keep it beautiful for you. Call Green Side Pro Wash, LLC for outstanding pressure washing services in Troutman at 704-775-5675!
Make Your Troutman Roof Spotless With Expert Roof Cleaning
Roof cleaning is a dangerous, dirty business for amateurs or pressure washing teams who don't know any better. At Green Side Pro Wash, LLC, we specialize in the safe cleaning of roofs so they enjoy a beautiful rejuvenation that will extend the lifespan of your shingles.
With our soft washing system of roof cleaning, no eyesore stands a chance against our pros. Soft washing uses a higher concentration of cleaning solutions that soak your shingles and break apart any substances attaching to the surface. It's the safest and most effective way for getting rid of dark algae streaks, bird droppings, moss, mildew, rotting vegetation, and much more. Once we've given your roof a precision clean, you'll enjoy sparkling clean shingles that will stand the test of time so you can avoid expensive repair costs and a more beautiful home. For expert roof cleaning in Troutman, you can always trust the specialists at Green Side Pro Wash, LLC!
Troutman's Superior Pressure Washing Services
There's no surface our pressure washing technicians can't clean in Troutman. Wherever you need a professional clean on your exterior property, Green Side Pro Wash, LLC can help! Call us for superior pressure washing services that include:
Shutter Brightening

Gutter Cleaning & Brightening

Deck Washing

Driveway Washing

Sidewalk Cleaning

Commercial Pressure Washing

Commercial Soft Washing

And Many More!
Exterior Home Surface Cleaning Pros In Troutman
As your home stands strong in the face of the elements day after day, it's inevitable that it'll get a bit messy over time. Algae and mildew grow in humid areas, pollen, dirt, and grime build up all over your exterior walls, and animals make a mess in the form of bird droppings, cobwebs, and wasps nests. While this mess doesn't make a big impression at first, if left to build up, it will eventually make your home look gross and unkempt. Plus, it's not very good for your sidings' longevity!
With a little elbow grease and a lot of TLC, we'll gladly take care of your home's exterior, not stopping until the property is perfect. Our focus is on the customer before all else, and we would be happy to perform our house washing according to your specifications, going above and beyond to meet them every time. We strive to bring our clients the absolute best in Troutman pressure washing. 
Keep Your Gutters Clean in Troutman with Green Side Pro Wash, LLC
Keeping your gutters clean is an important part of maintaining your home. Green Side Pro Wash, LLC specializes in gutter cleaning in Troutman. Our professional team will quickly and safely remove debris and debris build-up that can cause clogs, leading to water damage and other problems. Our pressure washing services can also help you keep your property looking great.
Gutter cleaning is important to the health of your home. Clogged gutters can cause water to back up, leading to damage to the roof, walls, and foundation. Additionally, clogged gutters can create a home for pests, leading to an infestation. By having your gutters regularly cleaned, you can avoid these issues and ensure your home is in top condition.
Some of the benefits of gutter cleaning include:
Protecting your roof and siding

Preventing water damage

Reducing the risk of pest infestations

Maintaining curb appeal
If you're looking for professional gutter cleaning in Troutman, contact Green Side Pro Wash, LLC today. Our team will provide you with safe and efficient gutter cleaning services that will keep your home looking great for years to come. Call us at 704-775-5675 for more information.
Best Quality Soft Washing Services in Troutman with Green Side Pro Wash, LLC
Are you in search of superior soft washing services in Troutman? Look no further than Green Side Pro Wash, LLC. Our team of professionals is highly trained and experienced in soft washing, so you can trust us to deliver the best results possible. Soft washing is a safe and more efficient alternative to pressure washing, and it's perfect for siding, roofs, decks, patios, and more. We use specialized equipment and the best cleaning solutions available, so you can rest assured that your property is in good hands.
Customer satisfaction is our top priority, and we use our expertise to make sure that your property is looking its best. Contact Green Side Pro Wash, LLC today to get started - we'll be happy to provide you with a free consultation and estimate for our services.
Let Green Side Pro Wash, LLC show you why soft washing is the best choice for your property in Troutman. Contact us today to get the best quality soft washing services around!
Restoring the Beauty of Your Troutman Home's Fence with Professional Washing
Don't settle for anything less than the best when it comes to fence washing. Contact Green Side Pro Wash, LLC today for a professional fence washing service in Troutman!
At Green Side Pro Wash, LLC, we understand the importance of having a clean, well-maintained fence, and we are dedicated to helping residents in Troutman keep their fences in the best condition possible. We offer a wide range of fence washing services, including pressure washing. Our professional team has the knowledge and experience necessary to provide a thorough cleaning that will make your fence look brand new.
Troutman's Best Driveway Washing Company
At Green Side Pro Wash, LLC, we understand the importance of maintaining a clean and well-kept driveway. Not only does it improve the appearance of your property, but it also helps to protect your investment over time. That's why we offer a comprehensive driveway washing service that is designed to remove dirt, grime, and other buildup from your driveway and restore it to its original beauty and shine.
We use only the latest and most effective pressure washing equipment and techniques to thoroughly clean your driveway, and our team is trained to handle all types of driveways, including concrete, asphalt, and brick. We also use environmentally friendly cleaning solutions that are safe for your family, pets, and plants, so you can feel confident that you are making a responsible choice for your home and the environment.
Trusted Deck Cleaning in Troutman with Green Side Pro Wash, LLC
Getting your deck professionally cleaned by Green Side Pro Wash, LLC in Troutman is a great way to keep your outdoor living space looking beautiful. Cleaning your deck regularly helps maintain its structural integrity and extend its lifespan. Green Side Pro Wash, LLC uses the latest pressure washing technology to provide swift and effective deck cleaning services. Contact Green Side Pro Wash, LLC now for a free quote and get the job done right!
A professional deck cleaning from Green Side Pro Wash, LLC helps make sure your outdoor space looks its best. Our experienced team uses the most advanced pressure washing techniques to ensure your deck is cleaned correctly and efficiently. We take the time to assess your deck and make sure it is thoroughly cleaned, ensuring maximum satisfaction. Contact us today to get started and get your outdoor space looking its best!
Solar Panel Cleaning To Maximize Your Troutman Solar Energy Performance
Green Side Pro Wash, LLC offers solar panel washing services to help homeowners in Troutman get the most out of their solar panel systems. Keeping your panels clean is essential for optimizing their performance. Pressure washing solar panels helps to remove dirt and debris that can block sunlight from reaching the panels and reduce their efficiency. Solar panel cleaning, or PV panel washing, is not only a great way to increase your solar panel system's efficiency, but also to extend its lifespan. With our experienced team, your solar panel system will be in top shape and ready for maximum solar energy production. Contact us today at 704-775-5675 and let us help you get the most out of your solar panel system.
Troutman's Premier Window Cleaning Service - Green Side Pro Wash, LLC
You can trust us to understand that taking care of your windows can be a hassle. That's why we make sure that our window washing services are as efficient and convenient as possible. Our team is dedicated to making sure that your windows are looking their best in the least amount of time. Call us today at 704-775-5675 to schedule your window washing service and let us take care of your window washing needs today.
We specialize in window washing and our team of experienced professionals has the experience and skill needed to make sure your windows are squeaky clean. We understand that window washing can be a time-consuming and difficult task, and that's why we make sure that our services are as efficient and convenient as possible. Call us today at 704-775-5675 to schedule your window washing service and let us take care of your window washing needs today.
Cleaner, Safer Surroundings with Commercial Pressure Washing in Troutman
At Green Side Pro Wash, LLC, we understand the importance of keeping your property clean and safe with commercial pressure washing services. In Troutman, commercial pressure washing can help remove dirt and grime, which can lead to safer and more pleasant surroundings. The benefits of commercial pressure washing include:
Removing dirt, mold, mildew, and other contaminants

Improving the lifespan of your property

Improving the overall look and feel of your property
Don't let dirt and grime accumulate on your property. Let Green Side Pro Wash, LLC take care of your commercial pressure washing needs. Contact us today at 704-775-5675 to learn more about our services.
Latest Troutman Pressure Washing Projects
There are currently no reviews or testimonials; check back soon!
LATEST NEWS & ARTICLES
The Significance of Prompt and Professional Graffiti Removal

Graffiti can be found in various public spaces, from buildings and fences to sidewalks and bridges. While some graffiti may be considered art, unauthorized and unsightly graffiti can have a negative impact on the appearance and perception of a property and its surrounding community. In this […]

What is the Best Month to Pressure Wash a House?

Pressure washing and soft washing a house is best done after any major seasonal change. There is no "ideal" month to soft wash your house, but there are definitely months that it is recommended! That being said, what is the best month to pressure wash a […]
.
CALL TODAY FOR QUALITY SOFT WASHING & PRESSURE WASHING IN MOORESVILLE AND THE SURROUNDING AREAS!