Experienced Driveway Washing Crew In Mooresville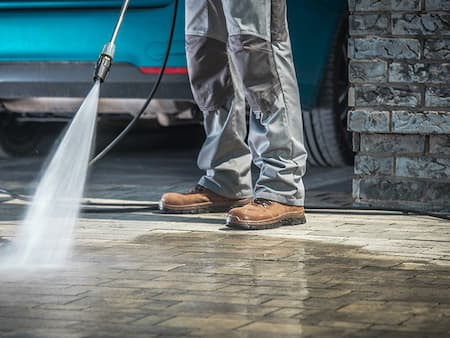 When you want your driveway to shine and sparkle the way it used to in Mooresville, the pressure washing company you can always rely on is Green Side Pro Wash, LLC! Our driveway washing service is the perfect solution for rescuing driveways from set-in stains, algae, and all types of unwanted blemishes.
If you want your surfaces clean-- forget the rest and deal only with the best! Green Side Pro Wash, LLC is the Mooresville pressure washing crew that consistently achieves outstanding results with top-notch customer service. Our experienced professionals use the latest in pressure washing technology with a keen eye for detail for our driveway washing and surface cleaning projects to ensure no spot or stain gets left behind! If we're servicing your property, you can rest easy knowing your surfaces are in the best hands that will tend to your pressure washing needs as if they were our own.
When it comes to pressure washing, seeing is believing! When you hire Green Side Pro Wash, LLC for your driveway washing needs in Mooresville, you're going to be amazed at the difference we can make. Give our experts a call today at 704-775-5675.
We'll Restore The Beauty Of Your Driveway
Driveways have to contend with vehicles, dirty shoes, weather, and all types of other elements every day. It's no wonder this invaluable surface gets so filthy so quickly! Driveways are also one area of your property that's difficult to ignore because they're front and center at most homes.
Driveway washing by Green Side Pro Wash, LLC is the maintenance and care your driveway needs to keep up its curb appeal and prevent costly future damages. When you hire our experienced driveway washing team, you can expect:
A spectacular, uniform clean of your driveway that will enhance the looks of your entire property!

The safe removal of slipping hazards that can lead to slip and fall injuries.

We clean away corrosive and moisture-trapping substances so your driveway can meet or exceed its lifespan.

Driveway washing is the perfect way to sanitize your driveway and remove illness-causing germs and bacteria.
Concrete Cleaning
You can't go anywhere without seeing concrete surfaces, and Mooresville is no exception. Whether it's your driveway or walkway, you can count on our driveway washing pros to give your concrete the expert cleaning it needs to look its best and prevent damages. Our technicians are ready to help you with all of your concrete cleaning needs, from sidewalk cleaning to patio cleaning and more. For unmatched pressure washing services at an affordable price, call Green Side Pro Wash, LLC at 704-775-5675.
Latest Projects
LATEST NEWS & ARTICLES
The Significance of Prompt and Professional Graffiti Removal

Graffiti can be found in various public spaces, from buildings and fences to sidewalks and bridges. While some graffiti may be considered art, unauthorized and unsightly graffiti can have a negative impact on the appearance and perception of a property and its surrounding community. In this […]

What is the Best Month to Pressure Wash a House?

Pressure washing and soft washing a house is best done after any major seasonal change. There is no "ideal" month to soft wash your house, but there are definitely months that it is recommended! That being said, what is the best month to pressure wash a […]
.
CALL TODAY FOR QUALITY SOFT WASHING & PRESSURE WASHING IN MOORESVILLE AND THE SURROUNDING AREAS!