Trusted Patio Washing For Your Mooresville Outdoor Living Spaces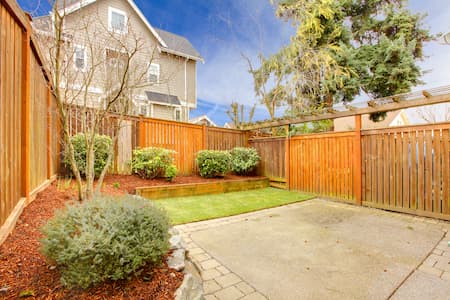 Are you looking to spruce up your patio in time so you can continue to enjoy this beautiful Mooresville weather? Then call the patio washing pros at Green Side Pro Wash, LLC for professional pressure washing services you can always count on!
Green Side Pro Wash, LLC is the company you can trust for professional pressure washing in Mooresville. Our dedicated technicians consistently achieve top-notch results of the highest quality for each job we take. We know how precious the investment you've made into your home is. As fellow homeowners and members of the community ourselves, it's our privilege and commitment to bring you the best in pressure washing services. Unlike other pressure washing companies, we don't cut any corners with our work. We clean outdoor living spaces the professional way, so you can have peace of mind knowing your surfaces are in expert hands.
When you need your patio or any other exterior surfaces cleaned, you should get the high-quality treatment you deserve. Call Green Side Pro Wash, LLC for Mooresville's best patio washing and pressure washing!
Patio Washing Perfection In Mooresville
Patios are cherished outdoor living spaces, but over time they succumb to the elements just as much as other exterior surface areas do. The key to keeping a clean, healthy patio that will stand the test of time is professional patio washing. At Green Side Pro Wash, LLC, we understand what patios have to go through and what their surface materials need to be cleaned safely. Our pressure washing team has spent years specializing in the careful cleaning of outdoor living spaces such as decks, porches, and patios, and we've excelled at cleaning away even the most stubborn stain. If you need patio washing, call Green Side Pro Wash, LLC for outstanding benefits such as:
We'll safely remove spots, streaks, stains, and grime. We'll carefully wash away any blemishes on your patio without damaging any of your property.

Our patio washing will make your patio look new again! Once thoroughly washed by our team, your patio will look better than ever and elevate your home's curb appeal.

You won't have to worry about any slipping hazards after we've cleaned your patio. We'll get rid of any slippery substances that could cause you or your guests to suffer an injury.

Patio washing protects your surface materials. Your patio will last you a lot longer once we've eliminated corrosive substances that threaten it.
Porch Cleaning
Do you have a porch that could use some help? Our patio washing pros can clean up your porch just as well as we can clean a patio! By using industrial-grade surface cleaning equipment and environmentally safe cleaning solutions, we can bring a spotless shine to your porch! Make Green Side Pro Wash, LLC the company you trust for all your exterior cleaning needs, and you'll never be disappointed!
If you're considering professional patio washing, you may also wish to consider pairing it with some of our other services as well. We're experts in sidewalk cleaning, driveway washing, soft washing, and more!
Recent Patio Washing Projects
LATEST NEWS & ARTICLES
The Significance of Prompt and Professional Graffiti Removal

Graffiti can be found in various public spaces, from buildings and fences to sidewalks and bridges. While some graffiti may be considered art, unauthorized and unsightly graffiti can have a negative impact on the appearance and perception of a property and its surrounding community. In this […]

What is the Best Month to Pressure Wash a House?

Pressure washing and soft washing a house is best done after any major seasonal change. There is no "ideal" month to soft wash your house, but there are definitely months that it is recommended! That being said, what is the best month to pressure wash a […]
.
CALL TODAY FOR QUALITY SOFT WASHING & PRESSURE WASHING IN MOORESVILLE AND THE SURROUNDING AREAS!