Window Cleaning For Like-New Exterior Glass In Mooresville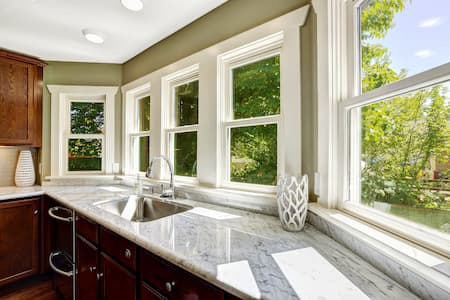 Are you tired of spots, streaks, and other blemishes on your windows hindering your view of the outdoors and hurting your Mooresville home's curb appeal? Green Side Pro Wash, LLC is the pressure washing company you can trust for first-class window cleaning that will have your windows cleaner and clearer than ever!
To get your windows in perfect shape, you need a professional window cleaning treatment by trusted professionals. At Green Side Pro Wash, LLC, we've been pressure washing in Mooresville for a long time. We're homeowners, and members of the community here ourselves, and our passion for pressure washing exterior surfaces is unmatched. Ask any one of our clients here, and they'll tell you that nobody comes close to our top-notch customer service, precision results, and affordable prices. We work hard because we love our neighbors, and we've got a reputation to uphold. If you need your windows to sparkle, then we're the team to call. Contact us at Green Side Pro Wash, LLC for Mooresville window cleaning and get the results that you deserve!
Window Washer
Window cleaning done right means soft washing, and nobody knows soft washing better than the window washers at Green Side Pro Wash, LLC. Soft washing allows our window cleaning team to give your windows a spectacular shine without causing any damage to your sealants, sidings, or housing materials. We promise that the difference between our window cleaning and doing it yourself is night and day! Take a look at just some of the reasons you should trust our window cleaning team:
Sparkling clean and clear windows that will last! Our unique cleaning formula will make your windows more transparent and keep them clean for longer periods of time.

Your windows will be more energy-efficient after we've cleaned them! We'll get rid of particles and pollutants that block your vision and your windows' ability to allow light in.

We'll extend the lifespan of your windows! Dirt, dust, and other particles can etch into your glass over time, but our pros never fail to remove all of them.

Our window cleaning keeps you and your home safe from injury! Leave the latter and hose behind-- our pros can wash all your hard-to-reach windows.

Window cleaning will protect the health of you and your loved ones! Besides allergens, our experts will disinfect your windows from harmful germs and bacteria.
Let Us Handle All Your Home's Pressure Washing Needs
We can do much more for your home if you need other services besides window cleaning! Try out our residential pressure washing services and give your Mooresville home the beauty makeover that's sure to turn heads:
Gutter Cleaning & Brightening

House Washing

Roof Cleaning

Fence Washing

Deck Washing

And Much More!
LATEST NEWS & ARTICLES
The Significance of Prompt and Professional Graffiti Removal

Graffiti can be found in various public spaces, from buildings and fences to sidewalks and bridges. While some graffiti may be considered art, unauthorized and unsightly graffiti can have a negative impact on the appearance and perception of a property and its surrounding community. In this […]

What is the Best Month to Pressure Wash a House?

Pressure washing and soft washing a house is best done after any major seasonal change. There is no "ideal" month to soft wash your house, but there are definitely months that it is recommended! That being said, what is the best month to pressure wash a […]
.
CALL TODAY FOR QUALITY SOFT WASHING & PRESSURE WASHING IN MOORESVILLE AND THE SURROUNDING AREAS!