Roof Cleaning Is The Gentle Way To Thoroughly Wash Mooresville Roofs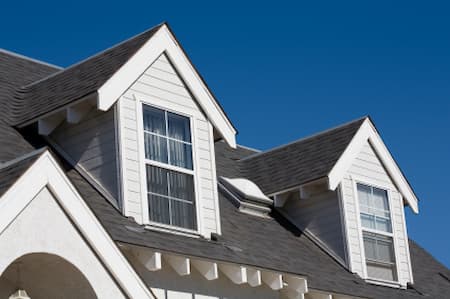 Not only does our professional roof cleaning service make your Mooresville roof look better than ever, but it's also the perfect way to protect your shingles so they'll last you longer! If you need a reliable roof cleaning, make Green Side Pro Wash, LLC the company you trust, and you'll never regret it!
At Green Side Pro Wash, LLC, our experts have a true passion for pressure washing in Mooresville. We genuinely love what we do, but what we enjoy even more than exterior cleaning is seeing our customers smile when they take a look at their gorgeous, revitalized surfaces. With years of experience in roof cleaning, soft washing, and pressure washing under our belt, you can rest assured that no unsightly substance will stand a chance against our elite cleaning team.
When it comes to pressure washing, don't just take our word for it! Check out all the hard work we've done recently on our latest projects page, and see what our customers have to say about us. We're committed to giving your home the sparkling finish you dream about, so when you're ready to put the best to the test-- give Green Side Pro Wash, LLC a call! Speak to our Mooresville staff today and ask for a free estimate on our professional roof cleaning treatment at 704-775-5675.
Why We Use Soft Washing To Clean Your Roof
Roof shingles can put up with plenty of abuse from mother nature, but they need a delicate touch when it comes to cleaning them. Green Side Pro Wash, LLC understands this better than anyone, and that's why we use the soft washing technique for our roof cleaning projects.
Soft washing is a technique of pressure washing that uses low water pressure combined with a more concentrated mixture of cleaning solutions. This combination of heated water and cleaning agents is showered over a surface and allowed to soak the desired area instead of standard pressure washing, where water is sprayed at high force. Once thoroughly soaked, the cleaning agents loosen and break apart all substances attached to your shingles so they can be rinsed away. There's no worry about damaging your roofing material with soft washing, and that's what makes it so ideal for roof cleaning.
The Benefits Of Our Roof Cleaning
Roof cleaning is beneficial in many ways. Some of the benefits you can expect when you rely on our roof cleaning service include:
Superior protection for your shingles so they'll last you longer without failing.

You'll get a heightened curb appeal that will enhance the look of your home and property value.

Your roof will be more energy-efficient, and you'll save money on your heating and cooling bills.

We'll stop the spread of harmful substances such as algae, moss, and more.
Are you ready to see the difference our soft washing pros can make with your roof? Then call Green Side Pro Wash, LLC today for superior roof cleaning in Mooresville!
Don't forget that roof cleaning isn't all we do. We're also experts at gutter cleaning, house washing, deck washing, and much more!
Recent Roof Cleaning Projects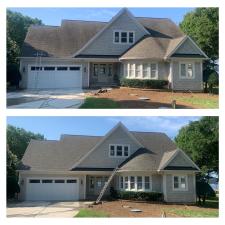 Roof Cleaning Cornelius, NC
For this project, we performed a roof cleaning for our customer in Cornelius, NC. The customer called us wanted to know how to safely get rid of the black streaks on their roof. We explained that our roof cleaning soft wash method is the […]
See This Project
LATEST NEWS & ARTICLES
The Significance of Prompt and Professional Graffiti Removal

Graffiti can be found in various public spaces, from buildings and fences to sidewalks and bridges. While some graffiti may be considered art, unauthorized and unsightly graffiti can have a negative impact on the appearance and perception of a property and its surrounding community. In this […]

What is the Best Month to Pressure Wash a House?

Pressure washing and soft washing a house is best done after any major seasonal change. There is no "ideal" month to soft wash your house, but there are definitely months that it is recommended! That being said, what is the best month to pressure wash a […]
.
CALL TODAY FOR QUALITY SOFT WASHING & PRESSURE WASHING IN MOORESVILLE AND THE SURROUNDING AREAS!