How Much Does Pressure Washing Cost in NC?
Pressure washing costs and rates may vary from state to state. This article will cover the average costs for consumers with various types of pressure washing needs around their homes located in North Carolina, along with the average costs incurred by the service company providing your pressure washing services. We will also cover costs in which the homeowner may incur when they choose to tackle the pressure washing task themselves. Services covered include House Soft Washing, Roof Cleaning, Surface Cleaning involving driveways, patios and sidewalks, Fence Cleaning, Deck Cleaning, Commercial Pressure Washing and Stain Removal such as rust, oil, graffiti and various brick staining.
House Washing/Roof Cleaning Costs
Soft washing is the absolute preferred method when cleaning sensitive materials such as Vinyl Siding, Hardie Board Siding and Roofing materials.
Soft washing is a method of pressure washing that eliminates the use of high pressure typically associated with pressure washers. This method either uses low pressure 12volt pumps or a down streamer that can be used with a pressure washer. Soft washing typically uses under 500 psi and is very safe for your home.
Soft washing a house removes all organic growth, cobwebs and dirt material from surfaces. The cost to soft wash a house typically ranges between $0.12 and $0.25 cents per square foot with an average cost of about $0.18 cents per square foot. The average U.S. home size is approximately 2400 square feet making the average home soft washing cost roughly $432.00.
House Soft Washing uses a 1%-2% sodium hypochlorite solutions along with a professional soap mix to clean which usually includes the exterior cleaning of the entire home from the roof line down to the foundation including all attached garages, porches, soffit, facia and gutters.
Roof cleaning using the soft washing technique is the recommended method by all major shingle manufactures. Roof cleaning is used to remove organic growth from the roofing shingles. This organic growth can be in the form of gloeocapsa magma (Black steaks) or moss. This algae feeds on the limestone in asphalt shingles and can shorten the life span of your roof, as well as having an unappealing curb appeal.
The roof cleaning process uses a 5-6% sodium hypochlorite solution along with a professional soap mix to safely remove the algae. This solution is either applied using a ladder or from the roof itself if it is walkable. It is important to note that great care needs to be taken when cleaning roofs in order to protect all surrounding vegetation.
The cost for roof cleaning varies between $0.25 and $0.40 per square foot with the average of about $0.32 per square foot. The typical roof size for a 2400 square foot home is 1700 square feet making the average roof soft washing cost roughly $544.00. Partial roof cleanings may also be an option to help lower homeowner costs when only part of the roof is affected by the algae. Partial roof soft washing typically do-not include multiyear warranties which are associated with complete roof cleanings.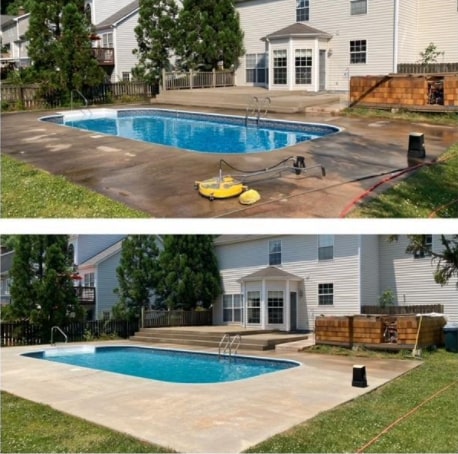 Surface Cleaning Costs
Surface cleaning usually involves driveways, patios, and sidewalks. Surface cleaning applies chemicals to remove certain stains and organic buildup along with the use of a professional surface cleaner to make the area look uniform when complete. This type of pressure washing involves high pressure to remove years of stains, dirt and organic buildup. The amount of pressure will vary, and it is extremely important to use caution when using pressure as not to damage the surface itself.
New concrete must be given enough time to cure prior to being cleaned, when cleaned too early the concrete can either be etched or severely damaged if not done properly.
The average cost of pressure washing a driveway is roughly $0.30 cents per square foot and can vary from $0.15 cents to $0.45 cents depending on the area you live. The typical 2 car driveway is 640 square feet with an average cost of $192.00. Cleaning a driveway through pressure washing is achieved by applying the necessary chemicals to remove any existing stains, applying a pretreatment of a 3% sodium hypochlorite along with professional soap mix formulated to kill any organic growth. After all solutions are applied properly the use of a professional surface cleaner along with a pressure washer will be utilized to clean the surface. After the surface is cleaned and all dirt and organics are rinsed away, a post treatment is applied to help blend in any imperfections and keep the surface stay clean for an extended period.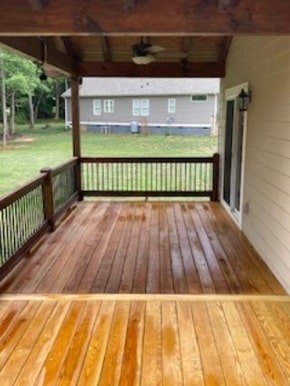 Fence Cleaning and Deck Cleaning Costs
Wood cleaning is a specialty field of pressure washing as it is imperative that it be achieved by using proper cleaning methods. Wood cleaning involves the use of several chemicals along with the use of a pressure washer. The average cost to clean a wooden fence or deck is $0.40 per square foot. A 500 square foot fence which is 6 feet high and about 85 feet in length would cost approximately $200.00. When cleaning the typical wooden fence or deck, a solution of 8oz sodium percarbonate to 1 gallon of water is applied to the surface and let to dwell for a given amount of time to loosen organic growth and dirt. After the sodium percarbonate, a pressure washer is used with a 25–40-degree tip, held 6"-12" away from the wood and cleaned using a constant motion being careful not to scar or damage the wood. After the wood is cleaned with the pressure washer, a solution of 8oz oxalic acid to 1 gallon of water is applied to wood, let to dwell and then rinsed away to bring back the wood's natural color.
Commercial Pressure Washing Costs
Commercial pressure washing usually includes quarterly or reoccurring services and typical services include drive thru cleaning, sidewalk cleaning, dumpster pad cleaning and cleaning the façade of buildings or establishments. Commercial pressure washing uses all modes of pressure washing including soft washing, surface cleaning, high pressure and the use of various chemicals. The average pricing for commercial pressure washing is $0.25- 0.30 per square foot for flatwork, $0.20 cents per square foot for buildings and $250.00 for reoccurring dumpster pad cleanings. Commercial pressure washing comes with some additional costs to the contractor such as commercial auto insurance and water reclamation when chemicals could possibly enter the storm water drains.
Stain and Graffiti Removal Costs
Stain and graffiti removal is a specialty in the pressure washing field that uses a variety of chemicals to remove difficult stains. Smaller rust or oil stains typically cost anywhere from $25-$50 as an add on to already scheduled services. For graffiti, an initial charge of $25-$75 is typical with a cost of $1-$3 per square foot and a minimum of 50 sq feet to remove the stain. In all, you can expect a minimum cost of $100 with an average cost of $250 for graffiti removal. Higher costs will be associated with graffiti that is difficult to reach. For these services, professionals will use a variety of acids, degreasers, caustics and graffiti removers which are acquired and perfected through many years of experience. The use of personal protective equipment is highly recommended and should be used during the cleaning process.
Expenses Associated with the Pressure Washing Business
While costs may seem high to the homeowner, running a legitimate pressure washing company has a variety of reoccurring expenses associated with providing valuable services. In order to complete a job properly, the correct equipment and training is needed. A complete pressure washing rig equipped with professional equipment can have an initial cost of $10-$30,000.00 along with all maintenance costs to upkeep. In addition to the cleaning equipment, a vehicle to transport the equipment is also necessary and accompanies its own associated costs to maintain. Other added monthly expenses include office equipment and software to schedule and maintain client info, marketing materials, liability insurance, auto insurance, workmen's compensation insurance, website fees, and marketing campaigns. These monthly expenses can run into the thousands of dollars per month even for the single owner/operators. If the cost for pressure washing job seems high, keep these expenses in mind and know that if you hire a reputable company, you are getting someone with years of experience and knowledge and the job will be done correctly.
Costs for DIY Pressure Washing
For the do-it-yourself homeowner, all types of pressure washing can be accomplished but comes with some up-front costs and knowledge. The most important tool needed is a pressure washer. A minimum of 4gpm is recommended for most pressure washing jobs and the costs is around $900 and should include a wand, hose and various tips for different types of jobs. For surface cleaning, a surface cleaner is needed to make the job look professional free from wand marks. Surface cleaners' costs anywhere from $150 for a 12-inch cleaner to over $1000 for 32-inch cleaners that also require much more expensive 8-10gpm pressure washers. In addition to the pressure washer, a variety of chemicals will need to be purchased from a pressure washing supply store. The most common chemical is 12.5% Sodium Hypochlorite and costs $1-$3 per gallon depending on where you live. Sodium Hypochlorite is the most common chemical used and is diluted to a 1%-%5 solution depending on the job application. Stain removal chemicals can also be purchased and costs around $25 a gallon depending on the type of stain present. All chemicals should be used with proper personal protective equipment and knowledge of their uses.
Final Thoughts
Pressure washing costs may vary depending on the area you live and the type of pressure washing service needed. In general, you can expect to pay $0.15-.25 per square foot for house washing, $0.25-.40 per square foot for roof cleaning, $0.40 cents per square foot for wood restoration and $0.20-.30 per square foot for reoccurring commercial cleaning. These prices reflect the costs associated with running a professional pressure washing company and the experience that accompanies it. The adage "You Get What You Pay For" is true when it comes to pressure washing; If the price seems too cheap then you will probably get a service that reflects the price. Please do not risk your most valuable investment to a company that does not have the correct equipment and knowledge to do the job correctly.
LATEST NEWS & ARTICLES
The Significance of Prompt and Professional Graffiti Removal

Graffiti can be found in various public spaces, from buildings and fences to sidewalks and bridges. While some graffiti may be considered art, unauthorized and unsightly graffiti can have a negative impact on the appearance and perception of a property and its surrounding community. In this […]

What is the Best Month to Pressure Wash a House?

Pressure washing and soft washing a house is best done after any major seasonal change. There is no "ideal" month to soft wash your house, but there are definitely months that it is recommended! That being said, what is the best month to pressure wash a […]
.
CALL TODAY FOR QUALITY SOFT WASHING & PRESSURE WASHING IN MOORESVILLE AND THE SURROUNDING AREAS!