How Deck Washing Benefits Your Home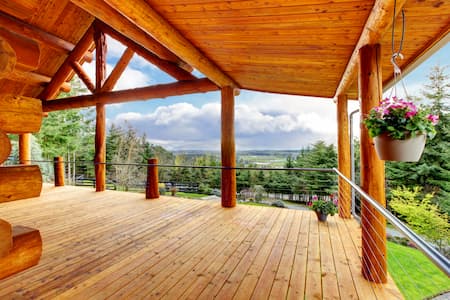 Everybody fortunate enough to have a deck at their North Carolina home is usually too busy enjoying it to bother thinking about deck washing, and we can't say we blame them! Decks add a tremendous amount of value for any home, and whether they're used for barbecues, star gazing or sipping on the morning coffee, there's plenty of utility and relaxation to be had on a deck. Like every other structure under the sun, though, decks have to be kept up with if we're going to continue using them.
The good news is that with modern professional pressure washing, decks can be made to look brand new again, regardless of what material they're made out of. Most pressure washing companies such as Green Side Pro Wash, LLC wisely opt to use a form of low-pressure washing known as soft washing. Soft washing avoids chipping your deck material or splintering wood because it uses almost no water pressure. Instead of high water pressure, soft washing get's its cleaning power through a higher concentration of advanced cleaning solutions that knock off contaminants and safely rinses them away.
Methods aside, let's take a look at why keeping your deck clean with a deck washing service will benefit your home.
No More Slipping Hazards
The fear of slipping with a tray full of to-be-barbecued meat is enough to frighten any homeowner and host. Slipping hazards are caused by substances such as mildew, algae, mold, moss, grease, and other materials. Professional deck washing removes these hazards so you can step lively and continue the party worry-free!
Maintain Or Restore The Beauty Of Your Deck
The weather, along with regular wear and tear, can really knock the visual appeal of your deck down a few levels. Over time, organic materials and oxidation can build up on your deck, and they can be a pain to clean off using traditional methods. Deck washing gives your deck a refreshing makeover and protects or restores its original beauty.
Keep A Healthy Home And Environment
Some of the offensive materials that can call your deck home over time include algae spores, built-up pollen, mold spores, germs, and harmful bacteria. Decks seem to be magnets for many illness-causing substances that can ruin your day or your party. Deck washing is the disinfecting, sanitizing service you need to keep your deck a healthy place to hang out.
A Clean Deck Lifts Curb Appeal And Property Value
Ask a million people, and most would agree that it would be a dream come true to have a deck at their home. Decks are a massive selling point and star attraction at any house. A beautiful, clean deck that has been well cared for will lift the appeal of your property significantly. Professional deck washing by Green Side Pro Wash, LLC is the Mooresville service you can always count on to keep your deck in perfect shape!
LATEST NEWS & ARTICLES
The Significance of Prompt and Professional Graffiti Removal

Graffiti can be found in various public spaces, from buildings and fences to sidewalks and bridges. While some graffiti may be considered art, unauthorized and unsightly graffiti can have a negative impact on the appearance and perception of a property and its surrounding community. In this […]

What is the Best Month to Pressure Wash a House?

Pressure washing and soft washing a house is best done after any major seasonal change. There is no "ideal" month to soft wash your house, but there are definitely months that it is recommended! That being said, what is the best month to pressure wash a […]
.
CALL TODAY FOR QUALITY SOFT WASHING & PRESSURE WASHING IN MOORESVILLE AND THE SURROUNDING AREAS!