The Benefits Of Commercial Pressure Washing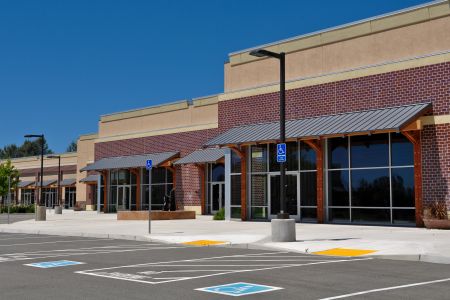 We've all heard that old idiom that it's what's on the inside that counts. While this may be mostly true, when it comes to exchanging our hard-earned money for goods or services, the eyes tend to look for signs of potential mistrust. Image and appearance can make the difference between success or failure in the business world. When your commercial property inevitably starts to get filthy, commercial pressure washing is the service and solution you need.
Professional pressure washing companies such as Green Side Pro Wash, LLC can give your exterior surfaces a rejuvenating treatment. With the use of modern pressure washing technology such as soft washing, there isn't an outdoor area that professionals can't clean. Below, we've compiled a list of a few of the outstanding benefits that pressure washing your business can bring to you. If you're in Mooresville and you'd like to know more about commercial pressure washing and soft washing, never hesitate to contact Green Side Pro Wash, LLC.
Elminate Liability Risks
Areas such as your parking lot, dumpster pad area, and walkways are prone to collecting all types of filth as time goes by. Some of this filth, as you've probably guessed, can be a real slipping hazard. For instance, vehicles fluids in parking lots can cause quite the accident if left undealt with. Algae and spilled grease are awful culprits as well. Customers and employees use these areas often, and if they injure themselves because of slip and fall hazards, you could be held liable.
Commercial pressure washing eliminates slippery substances that are on your surfaces and protects your business from liability claims. A relatively inexpensive service can save you a ton of money and heartache in the long run.
Increase The Confidence Of Your Customers
A dirty storefront or parking lot can be a giant red flag for many customers. Even your regular customers may start to think twice if you're the best business for their needs if your facilities aren't kept up. The appearance of your commercial property reflects the professionalism and trustworthiness of your business as a whole, so keeping a clean property is paramount to success.
Commercial pressure washing and soft washing will bring out a radiant shine to all of your exterior surfaces. What's clean and well maintained looks better, and what's more attractive to the eye will catch more interest. Having a clean business will increase the confidence of your customers and generate a positive attitude towards your commercial enterprise.
Protect The Health Of Your Community
Nobody enjoys getting sick, and people tend to avoid places that increase the chance of them getting sick. The ugly truth is that when your exterior surfaces aren't kept up with through pressure washing, they collect all types of illness-causing germs, bacteria, allergens, and viruses. Commercial pressure washing disinfects and sanitizes these areas so you can keep your customers, employees, and yourself safe and healthy.
LATEST NEWS & ARTICLES
The Significance of Prompt and Professional Graffiti Removal

Graffiti can be found in various public spaces, from buildings and fences to sidewalks and bridges. While some graffiti may be considered art, unauthorized and unsightly graffiti can have a negative impact on the appearance and perception of a property and its surrounding community. In this […]

What is the Best Month to Pressure Wash a House?

Pressure washing and soft washing a house is best done after any major seasonal change. There is no "ideal" month to soft wash your house, but there are definitely months that it is recommended! That being said, what is the best month to pressure wash a […]
.
CALL TODAY FOR QUALITY SOFT WASHING & PRESSURE WASHING IN MOORESVILLE AND THE SURROUNDING AREAS!