Expert Pressure Washing in Mooresville, NC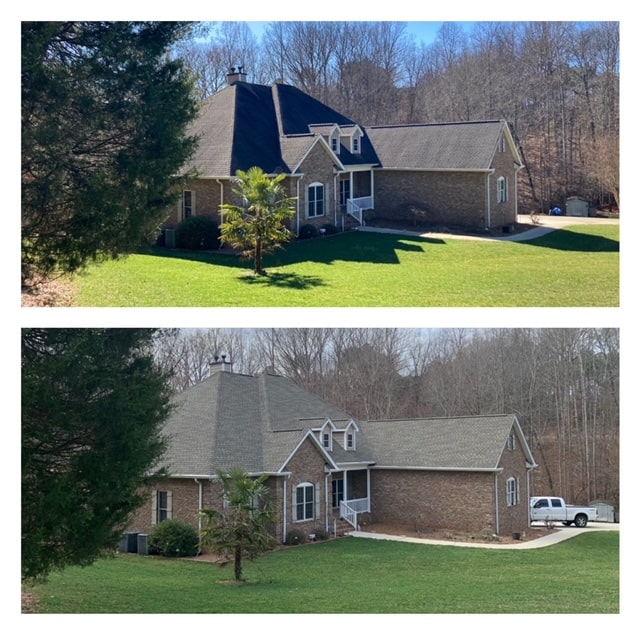 We received a call from a homeowner in Mooresville NC. They needed pressure washing and I convinced them Green Side Pro Wash was the best company for the job. We were contracted to do a driveway cleaning and roof cleaning. This was a simple pressure washing job, but if done incorrectly damage could be done. While pressure washing concrete is easy enough, it cannot always yield the best possible results if not also paired with some form of pre or post treatment. Looking at this driveway from the road, I knew that the mold and algae growing on it had been there for years. The owners couldn't remember when it was last done. Then came along Green Side Pro Wash LLC with the proper equipment and procedures to transform this dirty driveway into a clean and bright welcome home sign.
Starting out with a pretreatment solution, I could see the algae and other organic start to deteriorate. Other washers would skip this, which would cause it to grow back prematurely which results in a waste of money and an amateur job. With our 8 gallon per minute pressure washer, I began to do edging and corners which create crisp and clean lines to really distinguish between your beautiful, clean driveway and your neighbors'. Next, we used a professional surface cleaner to ensure even and flawless results and finished with a "post treatment" to continue to clean the concrete for a few hours. This added brightness and further destroyed organic growth hiding in the smallest of cracks. With no odd lines or markings left over, Green Side Pro Wash LLC was able to fully satisfy this client.
As for the roof cleaning, there were many years of organic growth present in the form of Gleo Capsa Magma, an algae that forms in the appearance of black streaks or in the case of this roof complete coverage on the north facing roof. For the cleaning, we applied a solution of soaps and detergents with low pressure pumps. This solution kills all the organic growth and brings your shingles back to their original color. This solution is recommended application by all the major shingle manufacturers to safely clean your asphalt shingles with no damage. If not treated, this algae feeds on the limestone in the shingles and shortens the life of your roof.
Pressure Cleaning Gallery
Client Review: Bill did a wonderful job, he did everything he said he was going to do and even a little extra, and came back to check to see if we were satiisfied. I would highly recomnend him.
- Timothy T.
OUR LATEST PROJECTS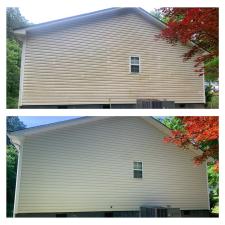 Top Quality House Washing Performed in Mooresville, NC
For this house washing project in Mooresville, NC, the customer called us and asked if we could remove the built-up dirt and algae from his vinyl siding. We gave him a quote to soft wash his entire home and we set a date to complete […]
See This Project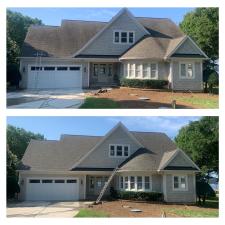 Roof Cleaning Cornelius, NC
For this project, we performed a roof cleaning for our customer in Cornelius, NC. The customer called us wanted to know how to safely get rid of the black streaks on their roof. We explained that our roof cleaning soft wash method is the […]
See This Project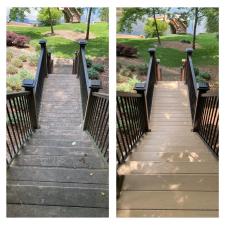 Trex Deck and Paver Cleaning Performed in Mooresville, NC
For this project, the homeowner had lots of mold and organic growth growing on their Trex Deck and paver patio and walkways. The excess organic growth was caused by a very shaded area with lots of trees and very little sun exposure. The homeowner […]
See This Project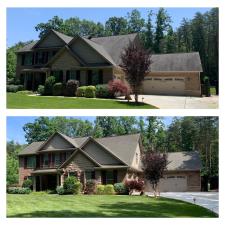 Roof Cleaning in Denver, NC
This great customer called interested in a roof cleaning and had concerns about how her vegetation would be affected during the process and how safe the process was for her roof. We assured her that all plants and vegetation would be safely taken care of […]
See This Project
LATEST NEWS & ARTICLES
The Significance of Prompt and Professional Graffiti Removal

Graffiti can be found in various public spaces, from buildings and fences to sidewalks and bridges. While some graffiti may be considered art, unauthorized and unsightly graffiti can have a negative impact on the appearance and perception of a property and its surrounding community. In this […]

What is the Best Month to Pressure Wash a House?

Pressure washing and soft washing a house is best done after any major seasonal change. There is no "ideal" month to soft wash your house, but there are definitely months that it is recommended! That being said, what is the best month to pressure wash a […]
.
CALL TODAY FOR QUALITY SOFT WASHING & PRESSURE WASHING IN MOORESVILLE AND THE SURROUNDING AREAS!